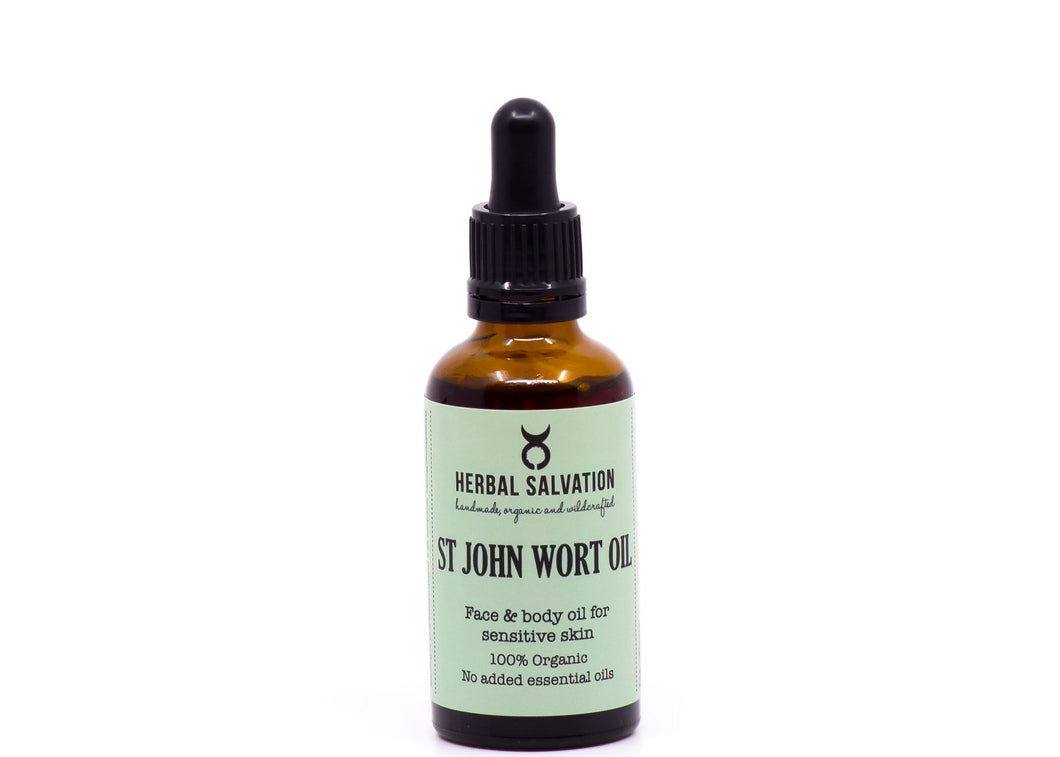 St. Johns Wort Oil
Regular price 195,00 kr Sale
Healing and calming oil for face and body.
St. Johns Wort is an ancient healing herb with multiple uses. This light red oil Is a superb healer to soothe tender, sore muscles, growing pregnant bellies, and soothe and calm red, irritated and itching skin. May be used for baby massage and perineum massage during pregnancy and after birth. Can also be used to heal and soothe fresh tattoos and minor burns caused by heat, sun or radiation. Because if it's softening and healing abilities this oil is also suitable for beards and to heal and soothe skin after shaving and after spending time in the sun. 
Face & Body Oil for sensitive skin
100% Organic
Directions: Apply to face and body as needed, preferably on damp skin. Suitable for growing pregnant bellies, itching, sensitive and dry skin. and skin. May also be used for massage of sore, tender muscles perineum massage during and after pregnancy. St. John's wort oil is also a perfect choice for baby massage.
Facial Care: Apply sparingly as needed on a damp face, after cleansing or applying your favorite floral water, to seal in extra moisture. Can also be used as an oil cleanser for sensitive skin. Use a few drops on a moist Silk sponge.
A little goes a long way.
Ingredients: Hypericum Perforatum* (St. Johns Wort) flowers infused in Olea European (Olive ) oil*
*Certified Organic
50 ml.
Helende og beroligende olie til sensitiv hud på ansigt og krop.
St. Johns Wort, også kaldet perikon, er en velkendt helende urt fra den traditionelle nordiske folkemedicin. Denne røde olie har været brugt til at linde ømme og trætte muskler, beskytte, blødgøre og dulme rød, irriteret og kløende hud. Man har ligeledes traditionelt anvendt olien til perineum massage før og efter fødsel. 
100% Økologisk
Anvendelse: Kan anvendes på krop og ansigt, som en fugtende, helende olie. Lindrer desuden hud efter ophold i solen. Kan anvendes på gravide maver, kløende hud, og hud som føles ru og tør. Prøv også et par dråber på hænderne efter håndvask i stedet for håndcreme. Olien er desuden velegnet til babymassage, og massage af gravide. Virker desuden helende og lindrende på nye tatoveringer, samt mindre forbrændinger der skyldes sol, varme eller strålebehandling. Anvendes på intakt hud.
Da olien er både blødgørende og helende, kan den desuden anvendes til skægpleje, samt til at hele og lindre irriteret hud efter barbering.
Ansigtspleje: Olien kan  anvendes som fugtighedsgivende ansigtsolie, som fremmer elasticiteten i huden. Kan anvendes sammen med din favorit Floral Water. Kan desuden anvendes til olie-rens af af ansigtet, særligt god til sensitiv hud. Anvend få dråber på en fugtig Silk svamp.
Anvend gerne på fugtig hud for bedste resultat.
Drøj i brug, anvend blot små mængder.
Ingredienser: Hypericum Perforatum* (Perikon) blomster udtrukket i Olea Europaea (oliven) olie*
*Fra Certificeret Økologisk produktion
50 ml.