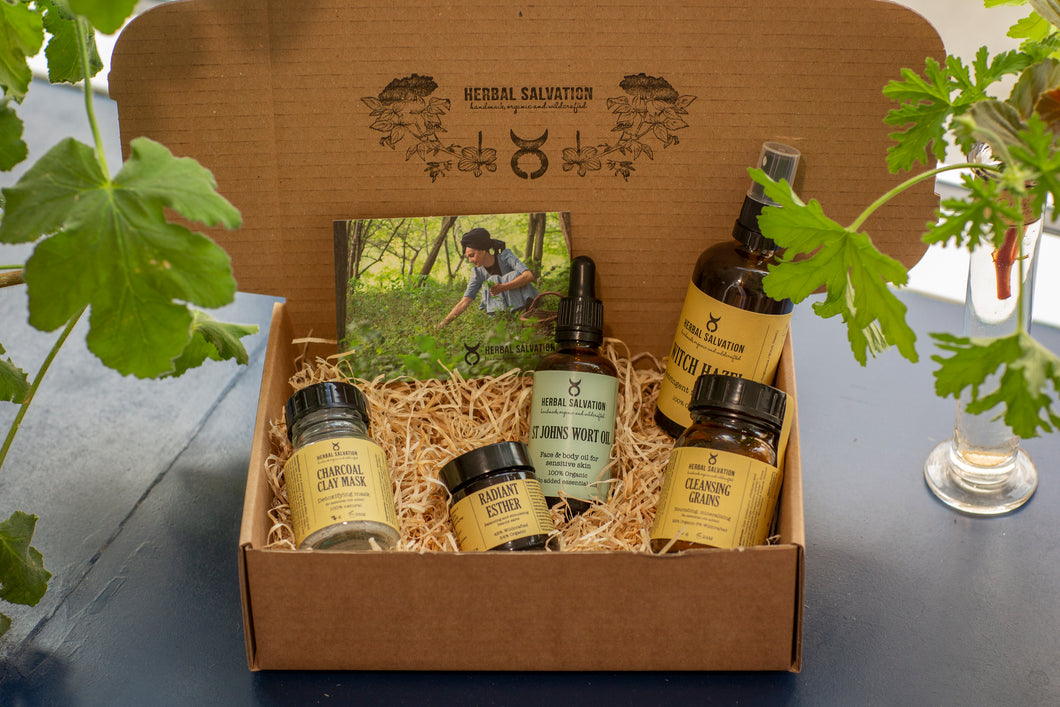 Challenged Skin Care bundle
Regular price 1.030,00 kr 927,00 kr Sale
ÅIn this Challenged Skin Care bundle you will get all the products we recommend for skin prone to acne, breakouts, greasy and/or dry skin. To help it heal and restore balance - leaving it beautiful and glowing. 
Buying this bundle, containing 5 of Herbal Salvations best sellers, will give you 10% discount.
The Challenged Skin Care combo-pack contains:
Charcoal-Clay Mask (150 dkk)
Cleansing Grains (150 dkk)
Witch Hazel Floral Spray (185 dkk)
St. Johns Wort Oil (195 dkk)
Radiant Esther Beauty Salve (350 dkk)


Total Value : 1005 dkk ~ ONLY : 927 dkk
Challenged Skin Care Routine ❣
💚 Clean your skin everyday with Cleansing Grains  a 3 in 1 cleanser ~ which leaves the skin nourished and rejuvenated without stripping it for its natural oils.
I recommend you mix it with honey for an extra antibacterial and healing effect. Especially in cases of breakouts. Honey draws moisture from the surroundings into the skin and acts like a natural 'filler' ❤
TIP: If you don't want to mix it everyday, you can pre-mix a part of cleansing grains with honey in a separate clean container (if you don't add water, it can last almost forever).

💚 Once/twice a week cleanse your skin with the Charcoal Clay Mask ~ it draws out toxins, while rejuvenating and mineraling the skin at the same time.
This can also be mixed with honey, instead of water, in case of breakouts, for a milder and more healing mask ❤ In case you have breakouts, honey also helps bleach the dark spot you can get from the breakouts, it will only make the dark spots fade. Not the rest of your complexion.

After cleansing
💚  Spray your skin with Witch Hazel Floral Spray ~ an astringent, anti inflammatory and healing tonic - that soothes and calms irritated skin down.
If you have challenges with mixed skin (both dry and greasy) you might want to use Rosemary & Lavender Floral Spray some days of the week ~ It aids the skin's ability to restore its natural balance, calms and soothes it and has high antioxidant properties and a regenerative effect.

While the skin is still moistened by the floral water
💚 Apply St. Johns Wort Oil ~ it calms the skin down and has anti inflammatory and superb healing properties.

💚 Finish with Radiant Esther Beauty Salve ~ Balancing, stimulating and healing facial beauty salve and serum in one.
Radiant Esther balances and heals acne prone skin, and promotes micro circulation in the skin, due to the medicinal herbal extracts of yarrow, rosemary and ginger.
It is suitable for both greasy and/or dry skin, as well as normal skin. Contains handgathered and wildcrafted Danish Yarrow.