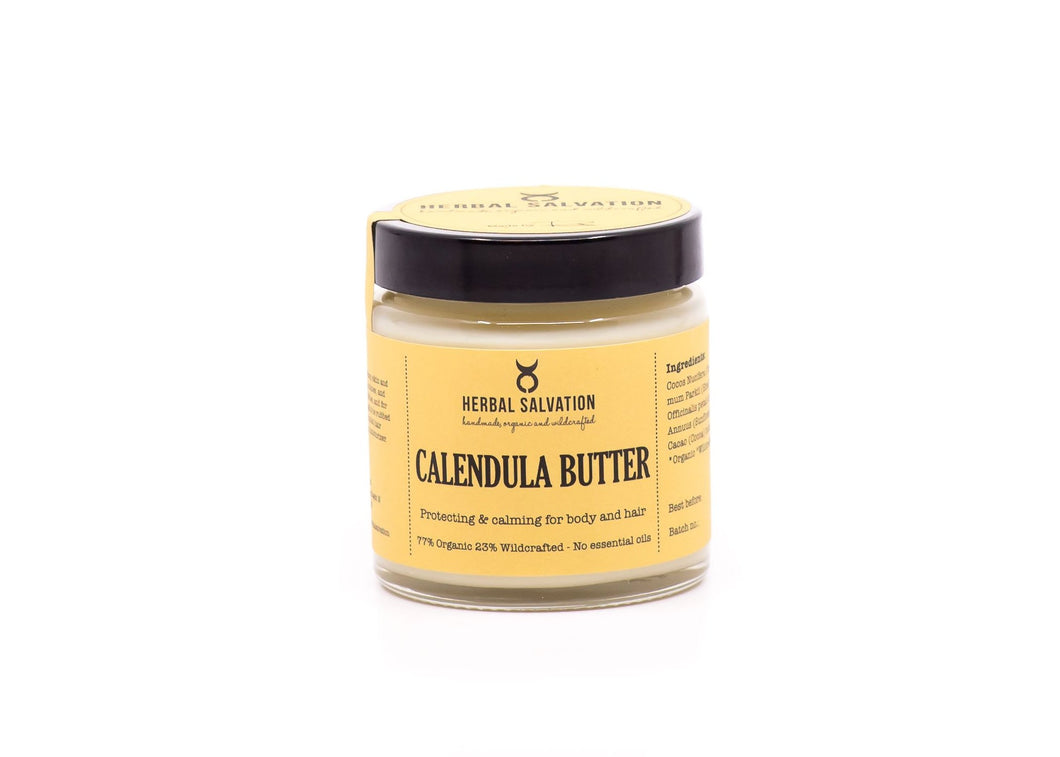 Calendula Butter
Regular price 250,00 kr Sale
We have created a gentle and calming butter with Calendula oil, for all skin types. Suitable for body, face and hair, dry skin, pregnant bellies and gentle to use for children and babies as well.
Contains no essential oils.
Herbal Salvation hair and body butters are all made from carefully selected organic and wildcrafted ingredients. All ingredients in this butter are 100% natural and unrefined, wildcrafted or organically grown, all produced by small businesses or cooperatives, fairtrade certified whenever attainable.
Directions: Use sparingly on dry or damp skin and apply as needed on face, body, cuticles and dry spots. Also very suitable on dry or curly hair, as a leave-in moisturizer after hair wash.
A little goes a long way.
Ingredients: Butyruspermum Parkii (Shea) butter, Cocoa Nucifera (coconut) oil, Calendula Officinalis (Calendula) oil, Theobroma Cacao (cocoa) butter, vitamin E.
125 ml.
Vi har skabt denne milde og beroligende kropssmør med Morgenfrueolie som kan anvendes af alle hudtyper. Den kan anvendes som en plejende basisolie til både krop, ansigt og hår, samt til gravide maver, børn og babyer.
Indeholder ingen æteriske olier.
Anvendelse: Påføres på fugtig hud (gerne efter bad). Efter behov på ansigt, krop, neglebånd, og tørre pletter samt hårspidser. Kan anvendes til tør eller krøllet hår efter hårvask, som "leave in" hårkur. Virker fugtende, nærende samt reparerende på tør hud.
Ingredients: Butyruspermum Parkii (Shea) smør, Cocoa Nucifera (kokus) olie, Calendula Officinalis (morgenfrue) olie, Theobroma Cacao (cocoa) smør, vitamin E.
125 ml.