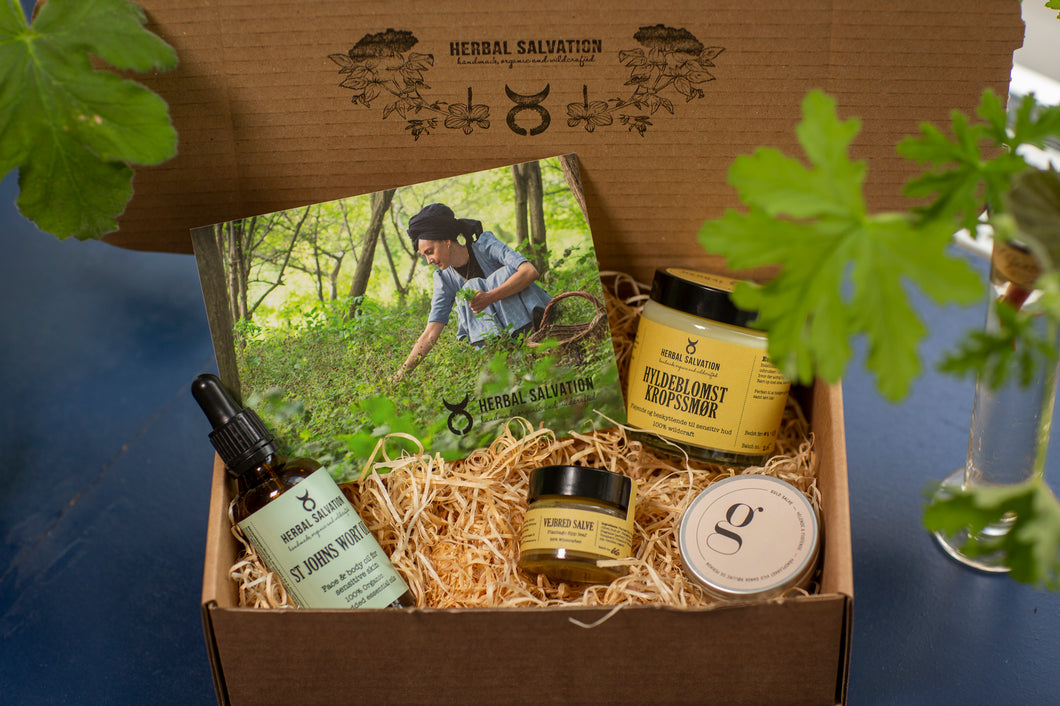 Itchy & Irritated Skin bundle
Regular price 755,00 kr 680,00 kr Sale
This bundle is for people with sensitive skin, with a tendency to be itchy, red, dry and maybe even scaly/flaky.
With this combination, it is my aim to provide a bundle of products focusing on relieving acute itching, while at the same time ensuring longlasting smooth skin with the ability to heal itself rapidly. This will pave the way of preventing secondary infections as well as scarring.
The products can be mixed and matched as you prefer, just remember applying from thin to thick, which means that you apply an oil before a body butter/salve etc
All the product listed are suitable for adults as well as children and babies.
Buying this combo-kit, containing 4 of Herbal Salvations best sellers, will give you more than 9% discount. 
The Itchy & Irritated Skin combo-pack contains:
St. John's wort (195 dkk)
Hyldeblomst Kropssmør (250 dkk)
Vejbred salve (160 dkk)
G-uld salve (150 dkk)
Total value: 755 dkk - ONLY: 680 dkk
St. Johns Wort oil: Calms irritated skin especially in cases where the skin appears red/itchy/warm.
Hyldeblomst Kropssmør: Is an Elder Flower body butter, also referred to as oil in solid form.
The active ingredients in this butter are calmimg, softening and nourishing, and customers with different types of eczema tells us, that they use this butter on body and face on a daily basis to maintain an intact skin barrier, reduce rough skin texture, and reduce Itching. 
Traditionally Elder Flower has been used as a beauty remedy and also a healer for troubled skin.
Melt between palms and apply on clean, damp skin, preferably after a shower.
Vejbred salve: Is a salve made from Plantain. I call this herb our Nordic Aloe Vera. Vejbred Salve Instantly calms and cools everything that is red, itchy, irritated and has traditionally been used for both eczema and insect bites. 
Is also a great remedy for red baby bottoms and sore, nursing nipples, as well as dry lips. May even be used as a protective salve on your cheeks during winter times or on those hot and dry sunny days.
G-uld Salve: Ultra rich salve with Yarrow and St. Johns Wort Oil. Heals and repairs ultra dry, cracked skin and customers tells us that they use it on their very dry spots on the body, and for different types of itchy skin. 
Use it on extra troubled spots on your body, or on your face and lips during winter, or a hot, dry summer.
Apply on clean, damp skin, preferably after a shower. 
This Bundle may be combined with Witch Hazel Floral Water, is an astringent, calming tonic, that is also anti-inflammatory and relieves irritation.
So besides using it as an astringent skin-tonic, you can also use it on insect bites and irritated, itchy skin (even after shaving).