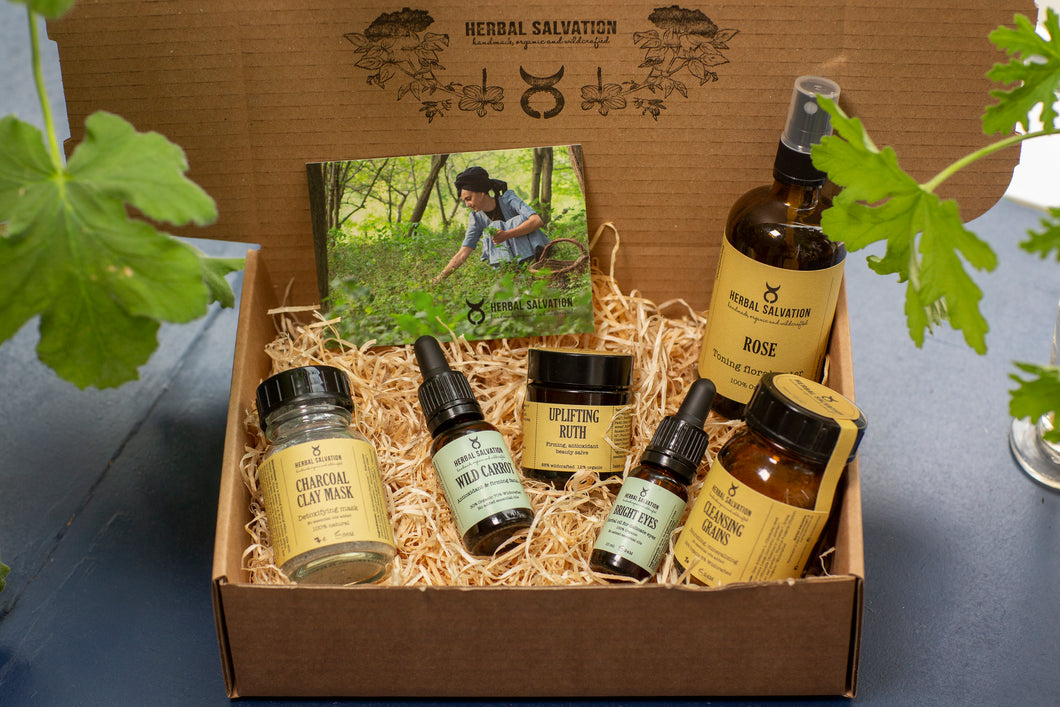 Pro-Age Beauty bundle
Regular price 1.225,00 kr 1.103,00 kr Sale
In this Pro-Age Beauty bundle, you will get all the products to give your skin youthful, rejuvenated, fresh and vital look. It is perfect for minimizing wrinkles and fine lines and works wonders as a pro-age boost!
Buying this combo-kit, containing 6 of Herbal Salvations best sellers, will give you a 10 % discount.
Pro-Age Kit contains:
Charcoal-Clay Mask (150 dkk)
Cleansing Grains (150 dkk)
Rose Floral Water (185 dkk)
Bright Eyes oil (195 dkk)
Wild Carrot face oil (195 dkk)
Uplifting Ruth (350 dkk)
Total Value : 1190 dkk ~ ONLY : 1035 dkk
Here is our pro-age skin love routine - to give your skin that boost glow ❣

💚 Once/twice a week cleanse your skin with the Charcoal Clay mask ~ it draws out toxins, while rejuvenating and mineralises the skin at the same time.
💚 You can clean your skin everyday with Cleansing Grains ~ Our 3 in1 cleanser: Cleanser, scrub & mask. It leaves the skin nourished and rejuvenated without stripping it for its natural oils.
💚  After cleaning, spray your skin with Rose Floral Water ~ it tones and adds moisture to your skin, helping minimize the appearance of fine lines and wrinkles.

While the skin is still moistened by the floral water
💚 Apply Bright Eyes oil around the eye area (or on the whole face) ~ it prevents swelling and discolorations of the skin around the eyes, and keeps the skin youthful.
💚 Apply Wild Carrot oil on the rest of the face (is mild so can also be used on the eye area) ~ It has highly antioxidant properties combined with nourishing, protective oils, makes it a firming, tonifying and rejuvenating oil.
💚 Finish with Uplifting Ruth beauty salve ~ it is firming, tightening and antioxidant and helps prevent and minimize fine lines and wrinkles.